FUHSO: A CHILD OF NECESSITY
1 September 2022
11:00 AM
FUHSO Campus, Otada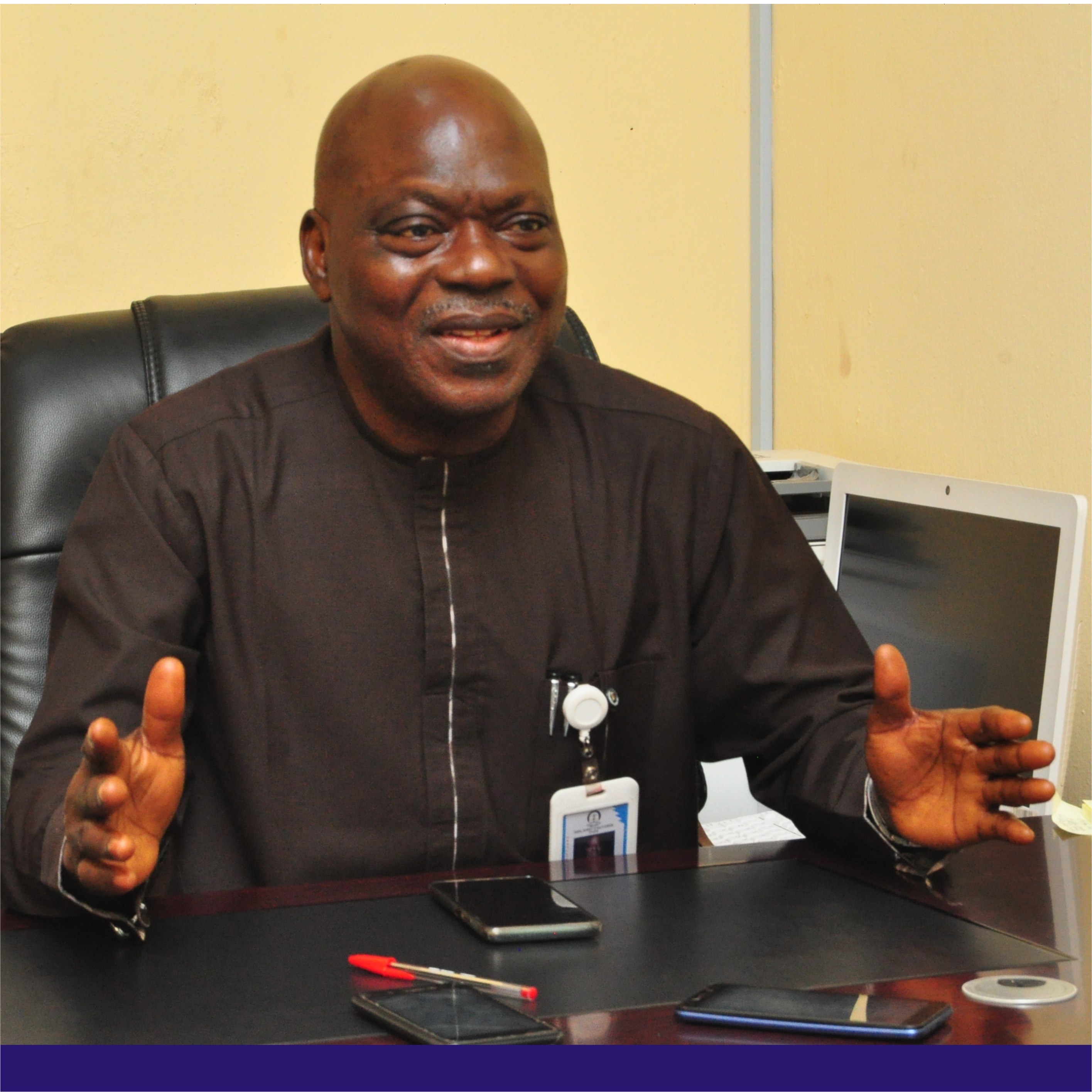 IN THIS INTERVIEW WITH PROFESSOR OWOICHO AKPA, DIRECTOR OF ACADEMIC PLANNING AND CONTROL OF THE FEDERAL UNIVERSITY OF HEALTH SCIENCES, OTUKPO, (FUHSO), THE PROFESSOR OF EDUCATIONAL PLANNING AND ADMINISTRATION SPEAKS ON THE ESTABLISHMENT OF FUHSO, CHALLENGES, FRUSTRATION, AND DEVELOPMENT. EXCERPTS:
Good day once again, Prof. You will recall that this is not the first time we've come here to do an interview with you. As part of our duties, what we would want to know is, how FUHSO came about. To the uninformed, how did the Federal University begin and who were those behind it?
The idea of the Federal University of Health Sciences, Otukpo, FUHSO, can be traced years back. First, we considered the idea of a University located in Otukpo because we felt so shortchanged in terms of admissions; in terms of employment; in terms of several other developments that go with a University. Neither Benue State University nor the Federal University of Agriculture, Makurdi, FUAM, or the University of Mkar, all located in Benue could give us. Therefore, a few of us came together under the auspices of Apa Education Foundation, AEF, chaired by Prof. Ochapa Onazi. We contemplated the idea of an Apa University and developed all the relevant instruments – the master plan; the academic briefs, I and II, and the University laws.
What was between us and registering for the University was the University fund. Then, it was 200 million that we needed to deposit in the proposed University's bank account before we could secure a license from the National Universities Commission. So, we went to see Senator David Mark at the time, and was positively disposed towards supporting the project, but he was scared about people assuming that he had come to hijack their project. He said that as much support as we needed, he will give, but he won't take it over, instead, he had conceived a University which he called 'King David University' which he would rather concentrate on, but the more Universities, the better, and if we had that and the Apa University, it would be a plus.
While that was going on, an idea came on how we could benefit from the existing Universities in Benue State. We specifically took a closer look at how we can benefit from the University of Agriculture Makurdi, which is Federal. At that time, Comrade Abba Moro was Chairman, Governing Council of FUAM and had so much influence over the management of the University.
He asked us of who were members of the Apa Education Foundation and those of us who were in the leadership of Idoma League of Professors, to think carefully about how to create an impact, if it was possible to develop a College of Medicine at the University of Agriculture, Makurdi, but located in Otukpo. I called on Prof. Francis Uba who developed the proposal for the College. Again, Senator Mark carried it forward and it enjoyed the support of Government and the Federal University of Agriculture Makurdi, was directed to start a College of Medicine – Otukpo Campus.
While looking for ways and means to get it started, we scouted all over the place on how we could actualize it, then, we heard about the Youths Development Center in Otada. The University of Agriculture Makurdi and its council came and visited the place and found out that it was good for the College.
The will to make it work was very limited and we were in that dilemma – whether it will work or not. Nonetheless, it was properly advertised and Professor Uba was appointed the Provost of the College of Medicine to start the College in Otada.
Nothing beyond that happened and there was hardly any budget for it. Prof. Uba on the other hand wasn't treated nicely by the University; but I must say - he kept hope alive and to our very pleasant surprise, in 2015, towards the end of President Jonathan's administration, approval for the Federal University of Health Sciences, Otukpo, was granted with its teaching hospital by the Federal Executive Council.
We had the groundbreaking ceremony at the permanent site at Akwete-Akpa. The new administration that came, and months after suspended the operations of the University along with other Federal Colleges of Education that were being upgraded to Universities of Education, as well as the Maritime University in Delta State.
We went back to square zero and not too sure if University of Agriculture Makurdi was going to continue to support the idea of the College of Medicine. In fact, earlier, the Federal Ministry of Agriculture said that they would prefer her Universities to concentrate on their core mandate of developing Agriculture. There was no argument that we did not advance – that Agriculture is medicine and medicine is agriculture.
That was a setback, but the Idoma community under the auspices of the Apa Education Foundation, AEF, didn't rest. Professor Ochapa Onazi, Professor John Idoko, Professor Innocent Ujah, Professor Ediga Agbo, Professor Francis Uba, Dr. Emmanuel Oduh and I, relentlessly followed up with a memo to Mr. President for the restoration of the suspended University. We didn't see result until a new Chief of Staff emerged in Aso Rock before we saw the response of Mr. President.
My dear, we have not expressed the joy enough because Mr. President approved all our prayers. Not only to restore the University, but also reinstalled the take-off grant of five billion naira (#5b). Immediately, the Federal Ministry of Education, working closely with the National Universities Commission, NUC, and Tertiary Education Trust Fund, Tetfund, set up an Implementation Committee for the take-off of the Federal University of Health Sciences, Otukpo. I must not at any point forget to acknowledge those that have supported to bring about the reality of our dream. We desired, we dreamt and we hoped for us to have a University.
Thanks to Senator David Mark for the initiative; thanks to the support of Professor Abdulrasheed Adamu, Executive Secretary, ES, - National Universities Commission; thanks to the then ES, Tertiary Education Trust Fund - Professor Silas Bogoro; thanks to the honourable Minister of Education, Mallam Adamu Adamu and then, our own former Permanent Secretary, FME and now ES, Tetfund - Arc. Sonny Echono. We cannot write a complete history of the University without giving these characters a conspicuous place and of course, as I have said, the Apa Education Foundation, because, if we went to sleep, it's very unlikely except for God, it would have been unlikely that the University will materialize.
So, several things have been going well for the University, we enjoyed tremendous support from these people, and up till now, we are still enjoying their support. As a matter of fact, transmitting the letter to Mr. President, we got the support of the Minister, Mal. Adamu as well as the Secretary to the Government of the Federation, Mr. Boss Mustapha played an indelible role.
Within the period under review, at the risk of immodesty, otherwise, the lizard says, if he jumps down the Iroko tree and nobody praises him, he will praise himself. I think we have achieved tremendous milestones. Universities of our age, many of them have not really taken off yet but with support from other functionaries like the Registrar and Chief Executive Officer of JAMB, Professor Ishaq Oloyede FUHSO is what it's today.
We have enrolled students, commenced lecture, completed their first academic Session with results collated, and currently on vacation. With the support of Tetfund, there is so much upgrade of the Youths Development Center as inherited while construction work has started at the permanent site. With the support of several other organizations and individuals, I think the future of the University is bright.
On 5th November 2021, we matriculated the first batch of 153 students which was difficult to believe, and I think I will simply say, it is the Lord's doing. We have recruited so many staff to the extent that we are being taxed to slow down because we know, we have several competent hands and there is so much pressure. There is so much hunger and the thirst for employment for our people and so no matter what we do, it's not going to be easily accepted that we have done something, but I tell you, so much has happened here in the last two years.
When the University came on the take-off site, Otada, it has transformed the community and I don't think I need to preach any sermon on that and the evidence is loud and clear. We began by running nine academic programmes – Bachelor of Medicine and Bachelor of Surgery, MBBS, B.Sc. Biochemistry, B.Sc. Biological Science, B.Sc. Microbiology B.Sc. Mathematics, B.Sc. Computer Science, B.Sc. Chemistry, B.Sc. Biostatistics and B.Sc. Physics. We are going according to our physical plan in the University's development plan on what is contained in the academic brief. Also, we are hoping to start up B.Sc. Nursing and Medical Laboratory Science and Bioinformatics.
As a matter of fact, these areas we are starting are very rear courses and the desire is that we want to produce graduates that are seriously sought after such that as our students are graduating, employers would be looking for them. We are not creating applicants but a pool of personnel that when before they leave our University, jobs will be waiting for them to choose whether Federal, State and Local Governments or private. We want to create an opportunity for these children to excel and make a difference and fill the economic space of this country by what we produce in this institution.
What were the initial problems encountered with the establishment of FUHSO and how were they surmounted?
It has not been a bed of roses to have gotten here. It is not easy, and I must say, though we enjoyed support from various people and various organizations, it is not easy as it sounds to have gotten to where we are now. It is possible to say everything is Tetfund, even today, Tetfund is not an easy matter before we came here, the contract for the renovation and restructuring of the take-off campus had been completed, and so there are too many things here that would have been done differently.
Number two and of course, is the general funding pattern of tertiary education and Universities, in particular, has changed over the years. Operational cost is a problem. We appreciate what we inherited from the Youths Development Centre, but it's grossly inadequate. I have about 15 to 16 people in the Directorate of Academic Planning, and we have this room and two others so where would you put table for 16 people in 3 rooms?
The excitement is that we all appreciate the difficulties of starting. I must admit that it is not all been roses throughout, but we have been able to carry on, up to this time because of shared determination; the sharp focus of the leadership of FUHSO; the realization that nothing good comes easy and that it may be rough now but where we are visioning, we would get there subsequently.
We have not reached our vision of running a world-class University, but we must appreciate the fact that this place was not built as a University, we collapsed the entire classroom blocks into laboratories. We are still working on Anatomy, Biochemistry, and Pharmacology Laboratories. Therefore, there are too many things that we have not gotten yet, however, with the calibre of staff that God has brought in here we are managing step by step and I think with determination we are getting to the desired end.
Can you enumerate the major achievements of FUHSO since its inception?
Let's look at it this way, I was at a radio programme a few days before our maiden matriculation, I mean Joy FM Radio station, Otukpo and they asked me a similar question. What would I say this University has brought for Idoma land? And I said the answer is EHE. That is: E- Is for Education which the University has brought, H, is for Health and the other E- is for Economic emancipation.
Meaning, close to 400 to 500 people are on employment already, rebuilding a Teaching Hospital and Mega Laboratory coming onboard already. We have core qualified personnel in every aspect of health. They are not necessarily teaching now but they are available to render clinical services to the health needs of Benue South Senatorial District of Nigeria and the world at large.
That is a major achievement and I find the Otada Community very hospitable, and it is a major condition for the survival of the University. The overall benefits that are derivable in setting up a tertiary institution and no University of our age has reached where we are in terms of enrollment of students, conduct of lectures and evaluation, hiring of staff, and research activities.
We are poised to having a world-class University and we are competing with the entire world. Very soon we want to be ranked among the topmost Universities not only in Nigeria but the world. Already, the National Research Fund of Tetfund, was advertised and our staff put in their concept notes and at least 3 of them are being considered.
What do you think needs to be done for FUHSO to attain the world standard envisaged by its founding fathers?
The greatness of a University is not in the building. Yes, building facilitates effective teaching and learning but the most important consideration is about her staff and students. We are looking at the internationalization of staff and students. This is the major factor now. We are hoping that very soon we would become visible on the internet so that we can attract staff and students within and outside Nigeria. We will work hard to have that robust network that would make communication between FUHSO and anywhere else in the world easy, while part of our ambition is that we curtail medical tourism.
Again, you cannot build Rome in a day, and we are heading towards being a world-class University and you have to talk about our curricular issues. As much as we are regulated by the National Universities Commission, I am quick to point out as part of the major thing that Universities have room to decide what it teaches, and we are desiring to produce graduates that will be seriously sought after. So, it is now heavily dependent on us, what we would do to bring about quality teaching and learning to produce graduates that are worthy in learning and in character.
Furthermore, we insisted that there is something to learn if the students stay together. We had trouble housing students and you know it is a very difficult thing to manage but you cannot engage students when everybody is at liberty to be where he or she wants to be. For instance, if we want to have some interaction with them, somebody is already coming back from or going because he did not sleep here.
You are aware that we are not teaching only sciences, we are teaching morals and core values - what we call 'IT-DAPIE' which connotes: Integrity, Transparency, Dedication, Accountability, Partnership, Innovation, and Equity. So, if you come here and graduate from FUHSO, you would have been deemed worthy in learning good character. Your hands, your heart, and your head must all be at work. So, the goal of what we want to achieve as a world-class University would be anchored on the teaching of three (3) H. H1 means Head, H2 means Hands, and H3 means Heart.
Where do you think FUHSO will be like in 5 years' time?
Well, we have just set in motion the process of developing a 5-year strategic plan. In the next 5 years, we wish FUHSO will be ranked among the best if not the first in the North Central geopolitical zone. All things being equal, in the shared view or vision of the University, the academic integrity that we are enforcing, by the way, we have put through three (3) categories of our staff through some retreat programmes that whoever comes here will know that everybody is coming in with something. When we say wherever you are coming from, first, this is what we want to do in this place and if we continue in our shared vision, I am optimistic that the University will be ranked among the best.
Remember, construction work has started at the permanent site, beginning with the Administrative/Senate, College of Medicine buildings as well as Principal Officers' Quarters and so on. The contractors have less than a year to complete the project and we are hoping that if the funding pattern we are getting continues within the period, we will get through with this, and a certificate of completion issued, new projects will come up. By the grace of God, in the next five years, our buildings will be completed, and the University would have moved to the permanent site.
Looking at the vision, mission, and core values of FUHSO, especially in producing world-class graduates and from the present sets of students, have you detected any promising, and outstanding students already?
In the first year, I led the induction programmes, and we listened to them because it was very participatory. If it were to be on spoken words, the answer is yes. We were able to use the opportunity to identify who their representatives are. We are talking to at least two that we are following up. God keeping us alive, soon they will be demonstrating some practical that has been factored into the calendar. Our students will let the world know that we are not here for jokes, but for serious business. In fact, I am whetting their appetite.
What is the present level of partnership between the University and the communities and the University and other Universities, and the private sector, especially financial institutions because finance is an emerging problem?
Regarding partnership at the level of the community, we have received a memorandum from a leader of the community to establish a kidney Centre that will be named after his late wife. We are also partnering with the Tertiary Education Trust Fund (Tetfund) for the Centre of Excellence on infectious diseases, at the University.
Our Vice-Chancellor, Prof Innocent Ujah, mni, has been on a partnership mission to Egypt. There is an ongoing partnership between Nigeria Universities and some top-class Universities in Egypt. We are also in a conversation with the Temple University in Philadelphia, USA. If under two years, we have reached this height, if you allow more years, we will be all over the place.
Prof. Can you please avail us of your bio-data?
I am not comfortable telling people about myself. I will try without boring you. Firstly, you can guess my age. Can you? I am 66 years. I was born in 1956. I went to Federal Government College, Keffi. The Motto of the school: is "never giving up". This has inspired me greatly in my journey in life. So, from Keffi I went to Jos, Plateau State where I spent the greater part of my life.
In 1976, I went to the University of Jos as a pioneering student. I finished in 1980, served my NYSC and came back to Otukpo. I taught for a few months at Wesley High School, Otukpo. I left there for College of Education at Ankpa. I was a pioneering staff, at that time, Ankpa was part of Benue State. I left in 1983 for graduate work in Jos. When I finished my graduate work in Jos, they held me back and that is where I have been. I rose through the ranks, and to the glory of God, I became a professor in 2002. As a Professor, I have been going out and coming in, rendering services here and there.
While in Jos, I served as Director of Academic Planning for 20 years. From 2002-2007, I left to be Vice-Chancellor of Kwararafa University, Wukari, Taraba State. I came back from Wukari in 2012 and I have been busy producing Ph.Ds and Professors. For a long time now, I have not taught under-graduates but I have many Professors now, and that is my pride. I am the oldest Professor in my department at the University of Jos.
In 2020, when our idea got Mr. President's nod, I was asked to come and start the University. I have steered Planning and Implementation Committee. I was Chairman of the Planning and Implementation Committee of Renaissance University, Enugu. I chaired the proposed King David University. Steering Committee Chairman of proposed APA University and a Member, Board of Trustee, APA Education Foundation, for the restoration of this University.
In all these, I have had experiences that have contributed to shaping my character. One major experience I have, is that of being an ASUU Chairman in Jos. I have not found a training school like ASUU, where you confront your colleagues and the only thing that would deliver you is the superiority of your argument.
During the National strike of 2001-2002, I did not allow Uni-Jos to go on that strike, why? We had just witnessed the major Jos crisis and my argument was that if the University of Jos went on strike again, it would fizzle out. I canvassed the position strongly at NEC meeting in Minna and I was persuasive enough, then ASUU granted us relief. There is so much to learn in every struggle. I have worked for several international organizations. I worked for Ford Foundation; World Bank; UNESCO and UNDP.
I have consulted for Federal Ministry of Education, Benue, Plateau, and Taraba State Governments. When Dr Mrs Oby Ezekwesili was Minister of Education, she appointed me as Chairman of the Committee to determine the unit cost of Basic Education in Nigeria. Again, during Hajiya Aisha Duku as Minister of State for education, I was in the team of the Nigerian delegation to Indonesia and studied the system and came up with what is known today as Almajiri education.
I served as a Member of the Governing Board of Universal Basic Education where I was Chairman of Programme Committee. In Jos, I have gone through virtually all segments of administration up to being a Member of the 10th Governing Council of Uni-Jos. My special area of teaching is Planning and Administration and that I have done almost all my life. All I have done in my life is Planning and that is all I have brought to the table here at FUHSO.
Thank you for your time, Prof.
IPPR UNIT, FUHSO
September 1st, 2022.